Posted on 03/02/2016 in Printing News, by Cheryl Charlesworth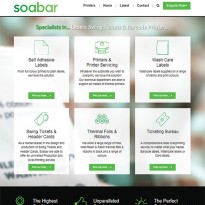 Soabar has today published it's new website.
The revamped website showcases all services offered by Soabar and shows new full colour card and label printers with downloadable links to brochures for all Soabar printers.
Soabar has a fresh new look with modern images and easy to navigate website and welcome your thoughts.