Posted on 11/03/2016 in Company News, by Jon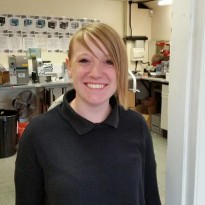 Here at Soabar, we think that it's really important that our customers get to know the people working the machines and manning the phones. Our employees keep the Soabar business functioning, and our customers keep them on their toes! This series of posts will be dedicated to breaking down the technological barrier that is so often experienced between companies nowadays, so that you can get to know some members of our incredible staff better. 
 My first interviewee is Molly Thomas, who is a fairly new employee at Soabar. This, in addition to her being an apprentice, makes her the perfect person to interview. After finding out a little bit more about Molly through this interview, we hope that you'll feel as if you could happily sit down and have a good old chat with her on your lunch break!
Without further ado, let the interviewing commence…
---
Hi Molly! First things first, what is your job title?
Hi, Most days I work as an overprinter in the technical department, however occasionally I'm needed on the factory floor too.
If you can, as I know that your job involves so many different aspects, could you please describe a typical day to me?
I can try! So most days, I'll start by coming into the office and checking my emails. There will probably be emails detailing orders that we'll need to print and complete that day, so after speaking with Cheryl I'll go and get the materials and printers ready for the first job. This can be anything from wash care labels to barcode labels,  shelf-edge labels to swing tickets. I'll have to find the correct label design and choose the printer that will best suit the job, as well as set up the foil and the rolls of labels. Before w
e run the whole job I'll do a trial run to make sure that the printer is working properly, and adjust anything if we need to. Then, we'll print the job and I'll have to keep an eye on my machine to ensure that all of the labels are printed to the highest quality. I'll also need to make sure that the foil doesn't run out!! After we've finished, I'll then bag and box the labels ready for them to be sent out for delivery. 
It sounds like a job that will keep you on your toes! What three skills would you say you most need to be a good over printer? 
I find that it's really important to have a good eye for detail, as you need to spot things when they aren't quite right and change them immediately. You also need to be really organised, not only in sorting out the materials but also knowing when orders need to be sent out and what order to run them in. Something else that I think is really good to do is to set yourself goals. This way, you know what you want to get completed that day, and it's a great feeling when you know that a job is done!
How long have you been working at Soabar for?
I started working here on the 1st June 2015, so that's what, just over 9 months now?!
Time flies hey! What experience, if any, did you have in the label printing industry before coming to work at Soabar?
Absolutely none! I'm an apprentice, so apart from other part-time jobs this is the first full-time job that I've had. I did find it quite difficult at first, as there were so many new things to learn in regards to the machines, software and the labels themselves. But now I feel much more confident and can happily run a job on my own.
Ah yes, we can't forget about the apprenticeship that you're currently undertaking! When did you first realise that you wanted to start an apprenticeship? 
I was 18 years old and still in college. I knew then that going to University wasn't really for me- I wanted a job that I could go to in the morning and come back home from later, knowing that then I was done for the day! I found the apprenticeship myself as I felt that the college I attended really pushed for students to apply for University more than apprenticeships. 
How did you go about getting your apprenticeship? Was it a relatively easy or difficult process in your opinion? 
I went onto the website http://www.learndirect.com and searched for all of the available vacancies in my local area. I picked and applied for most of the jobs that had an administrative role, as at the time that's what I felt I wanted to go into. I'd say that the process was really easy and the website was great. It let you search for jobs and apply for as many as I'd like to. 
That website sounds like a great find! What drew you to working at Soabar then?
The first thing was the location, as it's relatively easy to get to from my house! But more than that, the job description fitted exactly what I was looking for and I thought that my role sounded interesting and varied. 
Are you glad that you made the decision to start an apprenticeship? Why?
Yes I am, I think it's the best decision that I could have made at the time and I'm enjoying my job. I love having the weekends and evenings free to do whatever I'd like, and not have to worry about having to do work that used to eat into my spare time. 
Where do you go to college and what do you study?
I currently study Business Administration at a college in Kettering called "˜Starting Off'. I don't have teachers as such, but when I go into college once every two weeks I teach myself the material that's on my course. This involves using textbooks and having a lot of drive and passion for the subject that you're studying! I have different modules to complete and am assessed by different observers at the end of the year.
What skills will you take away with you from working at Soabar? Or what would you say that you've learnt in the 9 months you've been here? 
I've learnt so much about the thermal printers that I work with and the software that I have to use, as before I came I had no idea how to work any of it! I think one of the most valuable skills that I'll take away with me is how to talk to and deal with customers. Customer service and satisfaction is such a big thing and I can apply it to any job that I'll go into next. I've also really enjoyed being a bit creative and designing the labels that customers want.
I think that would be my favourite bit about the job too! What advice would you give to people who are thinking about starting an apprenticeship? 
I'd definitely tell people to use the website (www.learndirect.com) because it has so many good resources to help you find the best apprenticeship. All you have to do is start by registering, uploading your CV and then companies come to you. You should definitely sign up to lots of the websites and apply for lots of the positions, especially the ones that you think sound the most interesting. 
What is one thing that you couldn't be without in your job?
The team that I work within- especially Cheryl! They're always here to give me advice, support me and help me if I'm struggling. 
What drink do you usually get from Soabar's coffee machine?
It's always the hot chocolate for me!
That's one of my favourites too! Finally, what do you like to do in your spare time, when you're not working at Soabar? 
I love watching films and spending time with my friends. Working usually makes me very tired though, so I love to sleep a lot too!
---
Thank you so much for reading our first interview-style blog post. I really hope that you enjoyed getting to know a little bit more about Molly and what her role involves, as well as how she came to work at Soabar as an apprentice. If you'd like to ask Molly any more questions, then leave them in the comments section below. Alternatively, contact us on any of our social media platforms- the links are down below.
From all of us here at Soabar, we hope that you have a lovely weekend!
xx
Facebook: Soabar Ltd
Twitter: @soabarltd
Instagram: @soabarltd