Posted on 11/11/2016 in Company News, by Jon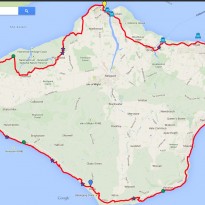 What are your plans for the weekend? A bit of retail therapy? Taking children to dance classes or football practice? Well, I can almost guarantee that what's on Jon and Sophie's agenda isn't on yours! 
This Sunday 13th November two of our employees, Jon and Sophie Nichols, are planning to begin the Isle of Wight Challenge. Walking 71.5 miles around the coastal path perimeter of the island in 5 days, the couple are definitely going to be faced with some challenging conditions as the winter weather descends on us! 
Weather permitting, their route is as follows:
Sunday 13th November: Cowes to Bembridge 
Monday 14th November: Bembridge to Chale
Tuesday 15th November: Chale to Totland
Wednesday 16th November: Totland to Shalfleet
Thursday 17th November: Shalfleet to Cowes
Previously, Jon and Sophie had booked a summer holiday in the Caribbean, but since decided to cancel their foreign get-a-way in order to raise money for two charities close to their hearts. The first of these is The Brtish Heart Foundation, a charity organisation in the United Kingdom that funds research into improving treatment, diagnosis and prevention of cardiovascular disease. They have also chosen to donate a proportion
of the money raised to Macmillan Cancer Support, which provides specialist health care, information and financial support to people affected by cancer. As their lovey labrador Molly is also going to be walking the route with them, they will also be donating to East Midlands Labrador Rescue Centre because, in the words of Jon, "˜Molly will be working just as hard as us!'.
Their target is to raise £1,000 which will be divided between the three chosen charities. Upon donating, you can select which charity you wish to support. 
For every day of their journey, a blog post will be written providing updates on their progress, what they had to face that day and some of the beautiful moments they would like to share. 
Please keep checking back next week and leave comments of support both at the bottom of the blog posts, or via Jon's twitter account (@Joff_nichols). 
If you would like to donate, then please follow the link to their Just Giving page. 
We wish Jon, Sophie and Molly the best of luck on this incredible challenge. 
Stay safe and have an amazing time!