Posted on 14/11/2016 in Company News, by Jon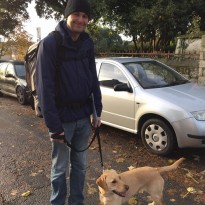 The start of a new week can only mean two things: 1) nostalgically reminiscing the wonderful if not slightly damp weekend that was shared by all and 2) beginning to ask, 'Is it Friday yet?!'.
But no-one may be asking that last question more than Jon and Sophie, who on Friday will finally be able to put their feet up after walking 72 miles around the Isle of Wight. But let's not get ahead of ourselves- yesterday saw them complete the first leg of their 5 day journey, walking from Cowes to Bembridge. 
Here's what they both had to say about the first day of their walk:
"Day 1. Up early for breakfast which was lovely, packed the bags up, parked the car and headed out very excited but also quite 
apprehensive of the challenge ahead! So we made it from Cowes to East Cowes on the chain link ferry followed by a 16 mile hike across all terrain to Bembridge. Seriously it feels like 50 mile carrying the 15kg backpack full of the essential items! We are now at the hotel and Molly is asleep already! Great day out walking lots of sights seen and ready for day 2."
From the pictures posted on Facebook, it looks as if they enjoyed glorious weather on the first day of their hike, lets hope that it continues long into the week!
On Friday evening, Jo, Sophie and Molly reached their £1,000 fundraising target on their Just Giving page. The money raised will be split between three charitable organisations: Macmillan Cancer Support, The British Heart Foundation and the East Midlands Labrador Rescue Centre. Donations are still very much welcomed and appreciated, please just follow the link to show your support.
We wish Jon, Sophie and Molly the best of luck on Day 2 of their adventure.
Please check back tomorrow for the next instalment of 'The Nichols' Isle of Wight Challenge'!