Posted on 15/11/2016 in Company News, by Jon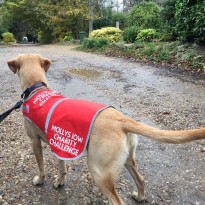 'It' a new dawn, it's a new day', but from the reports we received yesterday from Jon and Sophie- I don't know whether they're 'feeling good' as Michael Bublé would say! Day 2 sounded like a challenge, walking from Bembridge to Chale across all sorts of terrain in both the light and the dark. Fingers crossed that Day 3 will be much more enjoyable for them all. But before we get ahead of ourselves, here's what they had to say about Day 2 of their adventure: 
"Today was tough going! We started out well with breakfast at 7, leaving the Pilot Boat Inn at around 8am. We began the day by heading down the coastal path to Sandown and Shanklin, where there were some lovely views along the way. However the walking along the coastal path was very very difficult! It was both up and down hill, there were muddy paths, forests and slippy fields. We made it round to Ventnor where we stopped for some lunch and then headed for Chale. During this time we both we nearly fell over on the slippy fields, loosing light at around 4.30pm so that we needed head torches! We lost the light earlier than we had thought so got lost trying to find the correct path! Tough going!!"
Yesterday they covered 19 miles, so one of the longest legs on their journey. They are edging closer to the end of their walk, as Day 3 will see them reach the half way mark.
Please show them as much encouragement and support as you can, either by commenting on the bottom of this post or dropping them a message on Twitter. And if you're just as blown away by the
ir efforts as I am, then please donate via their Just Giving page. Jon, Sophie and Molly are raising money for 3 charities that are close to their hearts. All money will be split between Macmillan Cancer Support, The British Heart Foundation and the East Midlands Labrador Rescue Centre. Despite reaching their £1,000 target already, they would greatly appreciate any additional support.
It would really give them a boost as they embark on Day 3 today.
We wish Jon, Sophie and Molly an enjoyable day. Please check back tomorrow for the next instalment of 'The Nichols' Isle of Wight Challenge'!