Posted on 16/11/2016 in Company News, by Jon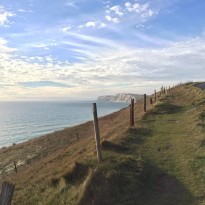 If any of you are avid Radio 2 listeners, then you will know that on yesterday's breakfast show the day was entitled 'Get Fit Tuesday'. And that's exactly what Jon, Sophie and Molly were doing- as day 3 of their Isle of Wight Challenge amounted to over 18 miles of walking as they trekked between Chale and Totland. Now, I bet not many (if any!) of us can say that's what we did with our Tuesday! 
Despite not receiving an official update from Jon or Sophie (in the highly sophisticated form of a Facebook message!) about their adventures on day 3, I'm going to draw on what Jon posted on his personal Facebook page to make sure that we can all stay in the loop. This is definitely a huge challenge and Jon, Sophie and Molly are doing so well!
"Day 3. Well what was supposed to be 16 mile has turned into a little more! My phone died at 18.6 miles and we must have walked 3+ miles after that! We have arrived at the hotel for the evening with a nice dinner planned at a local restaurant. 
 Today has been full of challenges with ups and downs (quite literally) tears from both sides and blisters galore. Add that to ongoing muscle pains dealt with by deep heat- it is agony! However 3 down 2 to go come on!! We will not be beaten!!"
What would we do without Deep Heat hey?!
It sounds as if despite the physical and mental challenges they are battling on, and their determination is definitely something to be admired. What really seems to be keeping them going though is the encouraging messages they are receiving from family and friends back at home. If you have any words of support then please leave them either below, on Soabar's Facebook page or post them on Twitter. 
Jon, Sophie and Molly are putting themselves through all of this in the hope of raising as much money as possible for their 3 chosen charities. Macmillan Cancer Support, the British Heart Foundation and East Midlands Labrador Rescue are charitable organisations close to their hearts, and they would really appreciate it if you could donate some money via their Just Giving Page.
Today be their penultimate day of walking- the end is in sight!
Please check back tomorrow for the next instalment of The Nichols' Isle of Wight Challenge.