Posted on 01/08/2018 in New Product Launches, by Jon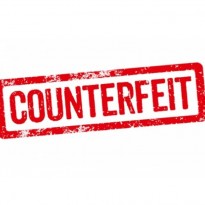 In June 2018 a haul of around 1800 counterfeit items were seized in the West Midlands. This single haul had an estimated value in the region of £30,000 and included football shirts, Gucci and Louis Vuitton bags.  In January 2018 thousands of pounds worth of goods were seized from sellers in Central London – brands included Nike, Apple and Victoria's Secret. It is estimated that luxury brands lost up to £22 billion in 2017 through internet sales (Global Brand Counterfeiting Report 2018).
Normally an overt solution, such as a hologram, is used by the manufacturer as part of the packaging or labelling and this protects the brand until the counterfeiters catch up and manage to make a passable replica. And so the cycle starts again with the Brand trying to stay one step ahead of the counterfeiter.
Brands will also manufacture their goods in specific ways – so Gucci may use a specific stitching on their zips on their handbags. Or Louis Vuitton stitch the base into their bags in a particular way – but how many members of the general public know these details, and know where and how to look for them? 
What Brands need is a solution with few, if any, opportunities for counterfeiters to copy their security measures. Soabar Ltd are currently in partnership developing a solution which will help Manufacturers, Retailers and Consumers be sure that the item they are supplying/buying is the genuine article. A secure method of marking packaging, or labelling, in such a way that is easily checked by Manufacturers, Supply Chain, Retailers and members of the Public.  This solution can be used for any goods – Shoes, Trainers, Wines and Spirits, Clothing, Hand Bags, Aftershave or Perfume, Luxury Luggage, even Concert or Sporting Event ticketing.
Soabar can help. Get in touch with us to see if we can help you combat counterfeit goods and protect you reputation.