Posted on 22/03/2019 in Company News, by Jon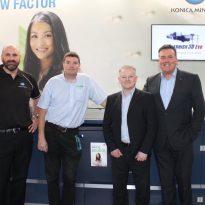 Great article from Digital Labels and Packaging; Leicester-based Soabar has added a second label press from Konica Minolta to its stable. This means that the company now has two AccurioLabel 190 toner presses, as its first-generation machine, the bizhub Press C71cf, was also replaced.  
Since the first KM press was installed in late 2016, the share of labels that are printed digitally has grown rapidly, and it became clear that a second machine was needed, if Soabar wanted to continue on this path.
Managing director Phil Achurch explained, 'The first Konica press has brought in a lot of new work and added a different dimension to the business. It has opened doors to new markets and new opportunities for us, and as we continue to grow this side of our business, we want to ensure that we can offer 100% reliability to our customers at all times.' He continued, 'Of course we considered other options, but we like the AccurioLabel for its cost-efficiency and high quality, and the click charge model suits us well. We also feel very confident about the support that we get from Konica Minolta.'
To accommodate the new investment, major alterations to the factory have been undertaken, with a new mezzanine floor adding 100 square metres of space, while the offices have been opened up to create a new open area. Soabar is known across the world for its thermal printers, which it sells to the textile industry, along with supplies of satin wash care materials and foils. It also prints textile labels and swing tickets in house. The two departments have now been joined to more effectively use the resources and optimise the space.
The company has further added an AccurioPress C3070 colour sheetfed press to the line up. This will be used for proofing – removing the need to stop the label presses to print proofs for customers – and longer term for printing swing tickets. All three presses link to the KM Color Care software suite, which ensures exact colour matching across the board and optimised output. An AB Graphic Digicon Lite converter, purchased for the first digital label press, currently copes with the total label output, but there are plans to add a second finishing line.
Mr Achurch concluded, 'We now have two brand new label presses that can communicate with each other and with the sheetfed press. We are not over-relying on just one machine and have the capacity to keep on growing.'
Read more here,