Posted on 16/02/2021 in Company News, by Jon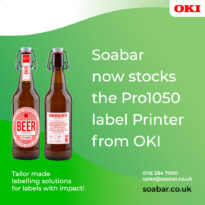 We have some great news!
As you know Soabar is recognised as one of the leading label solution suppliers for a wide variety of industries including Retail, Food, Chemical, Automotive, logistics, at the same time keeping in touch with our original products with our range of textile machinery and materials.
Our range of label printing systems are constantly updated to meet the challenge of today's rapidly changing market place. With our in-house design team producing quality artwork for your labels, our technical support department offering our customers support for their thermal printers and label software through to our production department producing high quality digital and flexographic labels, we are always here to help. We also recognise the importance of bringing our customers the best there is in advancing technology that's cost effective and easy to use. this is why we have partnered with OKI Europe to bring you the Pro1050 label printer.  
About OKI
OKI Europe Ltd is a division of OKI Data Corporation, a global business-to-business brand and pioneer of award-winning digital LED printer technology. Its compact, robust and leading-edge products combined with customer-centric solutions, empower businesses to create and print professional quality applications in-house.  Used by organisations across a range of sectors including retail, graphic arts (print for profit), education, healthcare, hospitality & events, construction, engineering, chemical and more, OKI's printers are renowned for their innovation, reliability, unrivalled media handling capabilities and superb colour quality.
About the Pro1050
The Pro1050 brings a new colour dimension to the printed label. Using digital LED together with dry toner technology, the Pro1050 offers a unique fifth colour or 'CMYK+1' option, allowing for greater flexibility in your label design. Printing on transparent or coloured label media is now straightforward by printing an opaque white background under the CMYK image.
Find out more
Contact us today to find out more. for a demonstration or sample drop us a line at sales@soabar.co.uk