Posted on 31/03/2016 in Company News, Printing News, by Jon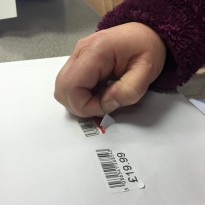 Tamper-Proof/Anti-Counterfeit Labels
Is your business losing a large amount of money as a result of illegal, fraudulent behaviour?
From large clothing retailers to small garden centres, the swapping of pricing labels has become a major problem worldwide, and could be losing your company thousands of pounds each year. A survey conducted by myvouchercodes.co.uk found that "˜swapping labels to pay less for an item' was the most common method employed by shoppers in order to save money, with 53% of participants stating that they had performed such an act at least once. This figure is even higher than that attached to parking illegally (41%) and tricking self-service machines (29%). What's more, 47% of offenders say that they would consider performing their label swapping antics again, which is no surprise considering less than 39% of people have been caught in the act. But Soabar now have a solution to this problem – the use of tamper-proof, anti-counterfeit, self-adhesive labels.
How do the labels work?
The labels themselves are made from a combination of easy-tear materials and strong adhesives, which cause the labels to disintegrate and tear if they are removed from the product or its packaging.  Unlike a standard paper label which can easily be removed in a shop without it tearing, these tamper-proof labels will tear into numerous parts, meaning that they cannot be swapped for ones that display a cheaper price. This can be seen in the above comparison photograph, in which we attempted to remove the labels from the surface they were stuck onto. The image on the left is before and the right image is after the removal process has been attempted. As you can see by the photograph on the right, evidence of tampering to the red label is obvious. This will allow members of staff to easily spot any attempt that has been made to change the original label for an alternative.
Is my business at risk?
Large retailers have reported an increase of ticket swapping in the past number of years, along with other big-name high street stores. One major worldwide clothing retailer has reported estimated losses of £480,000 over a 6 month period as a result of prolific ticket swapping, totalling at nearly £1 million per annum. You only have to flick through the UK newspapers to read reports on cases occurring up and down the country, and a selection of these have been linked at the bottom of this post. It could be that your company is losing thousands of pounds a year as a result of these sly shoppers, but now thanks to the introduction of our tamper-proof labels that doesn't have to be the case.
How can I introduce these labels onto my products?
Soabar can supply you with our new tamper-proof labels in a variety of ways. It may be that you already print your own pricing labels, and that you want to simply switch to printing this new type of label. The anti-counterfeit labels can be supplied in either direct thermal or thermal transfer substrates, meaning that all you need to do is purchase the materials from us and use your existing printer. Alternatively you may wish to have your labels printed externally, and that's fine too. Here at Soabar we can print the labels in a variety of sizes and quantities, displaying any design that you require. The labels will then be boxed up and sent to you directly, so that you can then stick them onto the swing tickets or directly onto the products themselves. If you'd like to enquire more about prices, designs or sizes of the labels, then you can get in contact with a member of our sales team here.
Soabar is excited to be launching such a revolutionary loss-prevention product to our customers. We believe that our anti-counterfeit labels are the perfect solution to this widespread issue, and we aim to help your company maximise profit margins. No longer be a victim of fraudulent behaviour, instead introduce tamper-proof labels to your products and beat the swappers at their own game.
Where to find us:
Facebook: Soabar Ltd
Twitter: @soabarltd
Instagram: soabarltd
Label swapping in the news:
http://www.dailymail.co.uk/news/article-2178645/Mother-30-000-month-switching-labels-childrens-toys-buying-cheaper-price-selling-eBay.html
http://www.bostonstandard.co.uk/news/local/swapping-price-tags-was-no-joke-judge-tells-defendant-1-1113561
http://www.thenorthernecho.co.uk/news/local/darlington/10882992.Self_confessed_shopaholic_defrauded_TK_Maxx_out_of_more_than___600__court_hears/?ref=rss
http://patch.com/wisconsin/mountpleasant/police-woman-nabbed-for-tag-switch-scam–again