Food Labels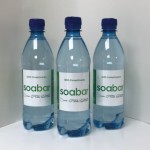 Food labels are needed to show the ingredients and certain food warnings, such as containing nuts or gluten. These labels aren't just required to sell food in the UK, but also help your customers by providing the information they need about your product and protecting them from any possible allergic reactions.
Food labelling is more than just providing information. It's a way of portraying your branding and values and your point of sale (POS) by reminding your customer of the brand and quality they are going to buy into. Great food labelling is also the way to increase your sales, by helping your products stand out among heavy competition.
Available Options
At Soabar, we understand the need for your product to stand out, we offer different sizes, colours, quantities, materials and can customise each label with barcodes, dates and other important variable information. We can help you create the perfect label to suit your business.
High quality. With over 40 years of experience at Soabar, we believe in providing only the best labels possible for your company.
Personalised. With a large variety of styles and designs, we can print your labels exactly the way you want them, including the exact information you need.
Improve brand recognition. Food labels are an excellent way of improving your brand recognition, helping you stand out from the crowd and reminding your customer of the quality they are going to be buying into.
Durable. Made to be long-lasting, our food labels are designed to withstand many conditions, including fridges or freezers.
Environmentally conscious. In addition to providing the best possible labels, we remain conscious of our environmental impact, looking to reduce our footprint as much as possible.
With our own in-house artwork department, we also offer a fully bespoke design service. Working closely with you, we help you achieve your perfect food label.
Gallery