Posted on 17/07/2017 in Product Information, by Jon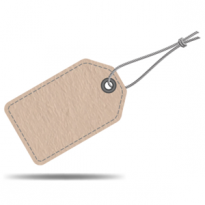 Swing tickets and header cards act as an essential point-of-sale tool, attaching product information and branding to your products.
With a big selection of different labelling types out there, it can be hard to know which tag is right for your products.
That's why we've put together a guide about everything you need to know about swing tickets and header cards.
Swing tickets
Swing tickets, or tags, are small pieces of removable card or other material that are attached to a product by a plastic joiner or piece of thread or ribbon.
Swing tags are the industry standard for displaying product information, such as the size, material, price and wash care instructions.
Commonly used on clothes, swing tags are also excellent options for a range of products, including bottles and machinery.
Alongside product information, there are many ways swing tags can be used. These include things like advertising a sale, a specific selling point of a product or even setting your business apart from the crowd by including inspirational quotes or fun facts. 
Swing tickets are also an essential part of showcasing your business and branding. If your swing tag is used to include information such as your website or contact information, you can encourage customers to find out more about your company, values and products.
Your company's branding is also promoted through the specific design of your swing tags. Able to choose from a range of materials, such as card or plastic, sizes, designs and colours. There are also various methods of attachment, such as ribbons, strings, elastic or wire.
The customisation of swing tickets allows you to create something that is unique to your company and truly showcases the quality of your product and brand.
Header cards
Like swing tickets, header cards are another staple of the packaging world.
Header cards are a type of card stock that is folded in half and stapled to a clear bag holding your product.
Used in retail for a range of small or lightweight items, header cards are a quick, easy and cost-effective way of packaging your products.
Just put your product in the bag and attach it to the header card to package and sell your product.
Like swing tickets, header cards can be made from a range of sizes, colours and finishes such as foiling, spot UV varnish, matt and gloss varnishes, or laminated.
The personalisation allows you to create a unique design that captures the branding and quality of your business and product.
Header cards can be a quick, professional and cost-effective solution to your packaging problems.
Header cards can also include the barcode of the product on the design, allowing them to save your business time when it comes to the checkout.
Conclusion
Both swing tickets and header cards are an essential tool for businesses.
Header cards are the ideal, cost effective solution to completely packaging your small and lightweight products.
In contrast, swing tickets can be used for a wider variety of products and uses and offer more personalisation options. This gives your company a bigger opportunity to get truly creative with your label solutions and stand out from the crowd.
Over the past 35 years, Soabar has become a market leader in swing ticket and header card printing.
With no job too big or small, we can offer a comprehensive overprinting service for your swing tickets no matter what your labelling requirements.
For more information about creating the perfect swing tickets and header cards for your products, get in touch with our team today.