Posted on 12/01/2018 in Company News, by Jon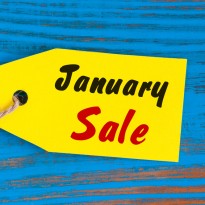 Just when you thought the shopping madness was over, in come the January sales to strip away any sort of calm, tranquil mood that had previously settled after Christmas.
If you thought that extra preparation was needed in the run up to Christmas, the January sales rush will be just as busy.
Everyone goes a little mad when it comes to getting goods at discount prices. From clothing and shoes, to TVs and phones, there is a deal to be had in every store and sector, and the public isn't prepared to miss out on the reductions!
You have probably worked out a labelling strategy ready to be implemented for January, however, the Jan sales are a big event in the retail world, so this strategy needs to be solid.
Creating a special January sales label can be a great marketing tool as well as an obvious price markdown tag.
They're a fantastic way to properly package your products for a busy sales period.
Plus, customising the information on the labels will help items to jump off the shelf and shine brighter than others – perfect for when you'd really like to push the sale of one particular piece!
Always ensure you have enough of the labels too.
Running out can be rather embarrassing but also confusing for your customers, meaning you may lose out on a sale.
Also, make sure you've allocated a certain amount of time to label up produce to avoid a last-minute rush and ensure your staff are prepared for the workload, especially those who have never worked a January sale before. Labelling up can sometimes take some time, especially if you have a lot of stock you'd like to shift.
Here at Soabar, no job is too big! We're here for all your labelling needs, especially for the January sales. 
For your labels to arrive in time, we need plenty of time to print, prepare and ship your parcel, so be sure to order early and in time before the rush, and be mindful of the Christmas postage dates!
We're dedicated to continuing the pursuit of excellence in providing the ideal label printing solution for a wide range of applications, so you can be sure to find the right label choice for your product. In fact, whatever the label or application, contact us to discuss your requirements, we'll definitely be able to help you out.