Posted on 15/03/2018 in Company News, by Jon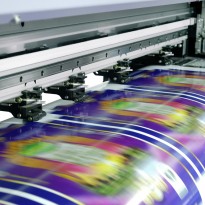 In today's technologically advanced world, digital printing is changing the printing industry. It's now easier than ever to print high-quality labels, barcodes and price tags.
No matter what label solution you need, digital printing is the answer to achieving more cost-effective and efficient POS (point-of-sale) experiences for your customers.
But what is digital printing and how can your business benefit? 
What is digital printing?
Digital printing is the process of printing an image from a digital file onto a material. 
Unlike traditional or offset printing methods, digital printing does not require the use of printing plates. Instead, ink and toner are directly applied to the material and sealed in place.
Without the need for printing plates, digital printing is excellent for flexibility, making it simple to print variable data. This means that every label within a run can include unique information, such as names from a database, consecutive numbers, multiple barcodes or designs, making it perfect for items such as barcodes, receipts, ID badges, shipping labels, and price tags.
Digital printing has a list of benefits over traditional printing, including:
High-quality labels. Digital printing will produce higher quality, more durable and long-lasting images than traditional printers, giving you clearer images built to last.
A quick turnaround. Perfect for creating labels exactly when you need them, the entire digital printing process is quick and efficient. Able to print directly from a PC, you can quickly import images and text from your computer to your printer, where the printing heads can bring your images to life within milliseconds.
No colour overlap. With conventional printing, it is nearly impossible to achieve perfect alignment for every colour. As digital printers print in one image rather than using different plates, there is no colour overlap in the labels.
Less Paper Waste. Digital printing uses less paper than conventional printing, eliminating waste.
Reduced costs. Because a new printing plate doesn't have to be created for each print, digital printing is the cost-effective solution for smaller runs and labels containing variable data. 
Conclusion
Digital printing is a way of directly transferring your image onto a material using heat – all without the printing plates.
Making it simple and easy to print variable data, digital printing is a fast, efficient and cost-effective way to print customised labels, information and short runs.
Digital printing can be used on a range of materials for a variety of labels, giving your business the tools it needs to streamline processes, improve brand awareness and POS interactions with your product.
Using over 40 years of experience at Soabar, we've got the knowledge and experience to print the high-quality labels that your business needs with digital printing. With our own in-house artwork department, we also offer a fully bespoke design service to design the right label solution suited to you.
Want to unlock the power of digital printing? Get in touch with a member of our team today.