Posted on 05/06/2018 in Company News, by Jon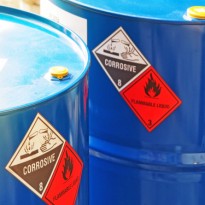 All chemicals must be safely labelled, to protect those handling them.
The GHS (Globally Harmonised System) was created to unify chemical label requirements across the globe. Using one system, the GHS labels are designed by the UN to use easily understandable symbols and common data sheets.
So, what are the GHS label requirements and what do you need to include on your label?
 What are the GHS label requirements?
This diagram is a great example of a GHS label, showing 6 key pieces of information that you should include.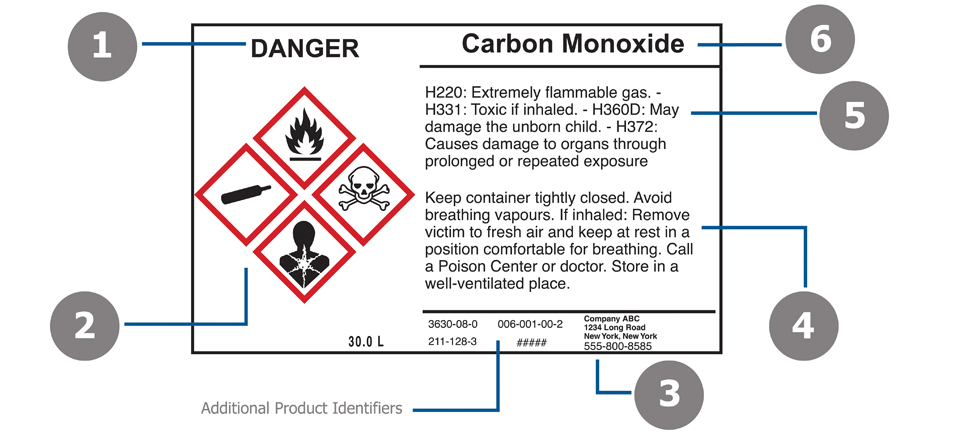 Signal Word.
The signal word is used to indicate the hazard level of the substance. Either "˜Danger' or "˜Warning' is used as the signal work, depending on how severe the hazard is. More severe hazards will use danger as the signal word, while chemicals that have less severe hazards will use warning.
GHS hazard pictograms.
Hazard pictograms are symbols that are used to identify hazardous products.
Each symbol will be on a white background in a red diamond and corresponds to specific hazards about the chemical.
There are 9 set GHS hazard symbols, which are broken down into three categories:
Chemical/physical risk
Health risk
Environmental risk
For example, the flame pictogram (top on the diagram) identifies hazards such as flammables (including flammable gas), pyrophorics, self-heating, self-reactives and organic peroxides.
Manufacturer Information.
The label must have information about the manufacturer, including company name, address and telephone number.
Precautionary Statements
The precautionary statements feature information that describes how to minimise, or prevent, hazards through proper handling and storage – as well as general preventative or response measures if accidental contact with the chemical is made.  
This information will also be found on the chemicals' safety data entry sheet.
Hazard Statements.
Hazard statements are designed to describe what hazard(s) the chemical poses and the severity.
All hazard statements are identified by an H-code, such as H220 in the diagram, which can also be found in the chemicals safety data sheet.
Product Name or Identifiers.
This identifies the product or chemical name. If any additional identifiers are needed, they can also be included to the right of the manufactures information although this isn't always a requirement.
 Conclusion
As well as including essential safety information and requirements, chemical labels must be clear, easy to read and understand.
With over 40 years of experience at Soabar, we can help you create GHS labels that not only addresses the legal requirements but also give you long-lasting durability you can count on – no matter where your chemicals are stored.
With our DC two colour printer and NiceLabel label design software you can print your own CLP compliant labels on demand as and when they are required.
With a range of different sizes, colours, quantities, materials and the ability to easily customise each label with the exact variable information you need, helping you create the perfect label to suit your business.
Get in touch with a member of our team today to create your own GHS labels.