Posted on 10/07/2018 in Company News, by Jon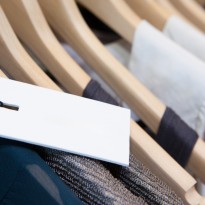 Custom clothing labels are an incredibly important POS tool.
The labels are required to provide important information, including size, material and safety warnings. But they can be used for so much more than safety. Clothing labels give your business a chance to showcase your brand, quality and product – helping your customers make the decision to buy into your brand, time and time again.
In the textiles industry, no business would be complete without custom clothing labels.
With today's advancement in technology, it's easier than ever to print your own labels on demand, exactly as and when you need them.
Using a textile printer, you can easily print custom clothing tags and labels directly onto a range of materials, including polyester, nylon satins, and swing tickets. Allowing you to print and attach the labels onto your products the very same day, increasing productivity and efficiency in your business.
Textile printers can also print variable data. This means that changes – no matter how big or small – are incredibly easy to make. Whether you want to include barcodes, wash care instructions, size information or use a completely new design, you're in complete control of your labels. 
With unrivalled expertise in the textile printer industry, we have a range of printers to suit any company. This includes single colour, two colour, double-sided, 3 colour and single swing ticket printers that are capable of producing textile labels even in the toughest of environments.
No matter what you're looking for – we've got the right solution for you. We're here to help you choose the right printer, software and care label materials, helping save you time and money.
We also offer on-site installation, training and warranty as standard on all our printers, making sure that you're in safe hands.
Let's get started printing your own custom clothing labels. Get in touch today.