Posted on 18/10/2019 in New Product Launches, by Jon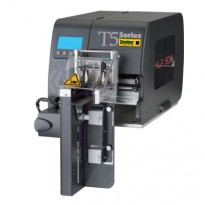 We recently received a request from one of our long standing customers around the world who were looking to upgrade their current label printer.
The original printer which they were looking to upgrade was first launched in the 1990's and was called the Soabar S35t / Avery Dennison TTK, this was replaced by the Soabar S7.4t /Avery Dennison AP7.t in later years but this was also discontinued in 2009 with spares only available until July 2014. The original technology of this printer was to produce wash care labels and with the additional Textile Cutter Stacker (TCS) to cut each printed label and stack them into a neat pile so as the machinists could easily collect one label when sewing them into the garment is was the perfect in house care label solution.
Once our sales department had spoken with the customer and to obtain all of the details in order to offer a replacement. The new T5 printer with TCS was a perfect fit to reproduce the same label which is being printed now. The label is 38mm in width, 80mm in height and printed with the garment composition and care instructions on a polyester satin material with our FD full resin ink ribbon for wash care applications.
The T5 series printer is available in both 200dpi and 300dpi print quality, suitable for printing up to 4000 labels per hour and when paired with SoLabel professional label design software which comes complete with the wash care symbols it is the ideal label printing solution for producing your wash care labels in house.
Soabar has a number of old machines around the world some of which include the Soabar S35t / Avery Dennison TTK, Soabar 7.4/ Avery Dennison AP7.t. If you have one we would love to hear from you and how the Soabar range of printers has helped your business over the years.
At Soabar, we are renowned for our expertise within the textile printer industry. We will help you choose the right printer, software and label substrate to give you a complete solution which works for your business saving you time and money. With our UK on-site installation, training and warranty as standard you can be sure you're in safe hands.
View our new T5 Textile Printer printer here https://www.soabar.co.uk/services/thermal-printers/textile-printers/t5-textile-printer/
To discuss and upgrade to our current range of printers, request a demonstration or for more information on our range of products, get in touch with our team today.