4+ Series Printer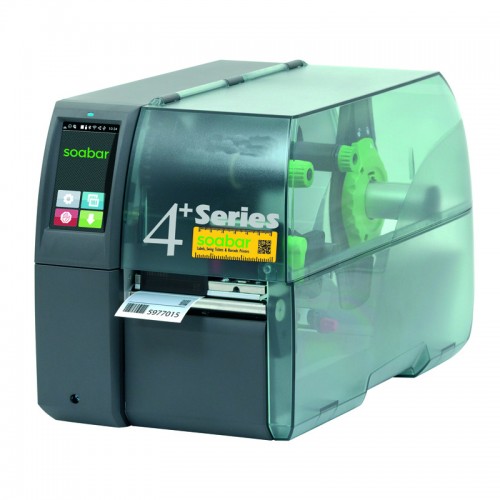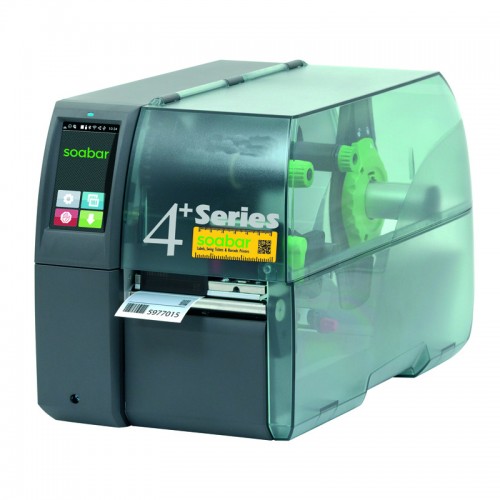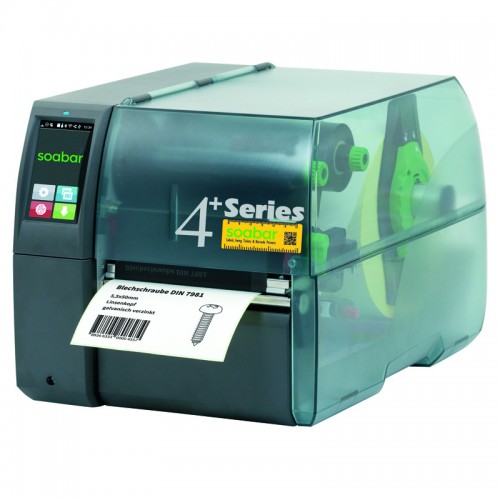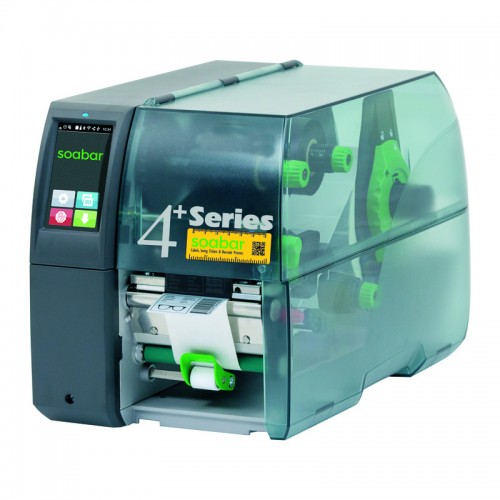 4+ Series
The Soabar 4420+, 4430+ and 4460+ thermal transfer label printers are included in our range of industrial label printing solution for printing labels on demand.
The 4+ series range benefits from a 4.3″ LCD touchscreen display allowing the user to easily navigate around the menu structure to change settings or just pause the printer during a print run.
The 4+ series range also includes the larger 4630+ and the smaller 4230+ and 4260+ these models are 6″ wide and 2″ wide respectively which allows printing of wider pallet labels down to smaller PCB labelling, the 4420+, 4430+ and 4460+ prints up to 4″ wide. All the printers in the 4+ range offer an impressive 8″ internal roll diameter for labels and up to 450m ink ribbon capacity reducing downtime.
High quality. The 4 series printer range is available with either 200dpi (4420+), 300dpi (4230+, 4430+, 4630+) or 600dpi (4260+, 4460+) print quality for that added quality on small text.
On Demand. With the 4 series printer in your company, you can print adhesive labels and card swing tickets on demand to apply direct to your products saving time and money within the business.
Variable. Printing barcodes, batch codes, sequential numbers, dates and other variable information to your label gives you traceability and flexibility.
Easy to use. With onsite installation and training you can be sure your staff will be able to operate the printer easily.
The 4 series printer also offers a range of attachments including a cutter, perforation cutter for heat shrink tubing and a rewind unit. The machines are also available as a dispensing option which will dispensing one printed label each time the last printed label is removed.
There is also a full range of applicator heads available to apply labels directly onto your products without the need for human intervention, please call us to discuss your exact requirements.
At Soabar, we are renowned for our expertise within the thermal printer industry. We will help you choose the right printer, software and labels to give you a complete solution which works for your business saving you time and money. With our on-site installation, training and warranty as standard you can be sure you're in safe hands.
To discuss our 4 series printer range, request a demonstration or for more information on our range of products, get in touch with our team today.