Posted on 23/05/2018 in Company News, by Jon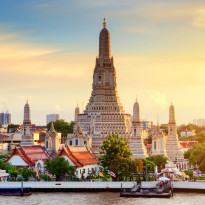 Soabar recently visited one of the key events in the global label industry calendar, Labelexpo 2018, which this year took place in the Thai capital, Bangkok.
With more than 200 exhibitors lined up from across the industry and more than 5,000 delegates expected to attend, we were delighted to be able to pay a visit to keep up-to-date with all the latest trends and industry best practice.
In addition to hundreds of new product launches, technology showcases and live demonstrations, the show included feature areas focusing on the fastest-growing parts of the label-making industry.
It featured a two-day conference programme including informative panel discussions and presentations by industry experts.
The event was co-located with the AWA South East Asian Release Liner & Converting Industry Seminar, which aimed to inform and educate on all aspects of release liners and its application areas.
It gave us the chance to update our knowledge on the release liner and application markets, as key players in the industry share developments, innovations and trends in their respective area of expertise: paper and filmic release liner, silicones and production.
Phil Achurch, our managing director, said: "œLabelexpo 2018 was a great event and it was fantastic to get out to Bangkok to experience all that it has to offer.
"œWe already have a number of clients in South East Asia and it will be great to catch up with them as well as showcasing our brand at Labelexpo, which is one of the biggest global events in our industry's calendar.
"œSoabar is held in high regard in the region because of our historic origins within the textile market, so we are looking forward to further cementing our position and growing our audience in what is a key area for the company."
Soabar holds in stock a full range of satins and foils. We are able to pre-print card tickets and labels for you to overprint in-house utilising one of our thermal printing systems.
At Soabar, we understand that labels are more than just paper and can say a lot about your product.
That's why our experts are ready to discuss the label needs your business is facing in today's rapidly-changing marketplace.
As label experts, we believe in excellence and a personal touch.
Whether detailed wash care labels, barcode labels, general self-adhesive labels, single sheet card tickets or kimballs are required, we can help, along with providing an extensive range of textile printers and design software to deliver customer-specific solutions tailored to your exact requirements.